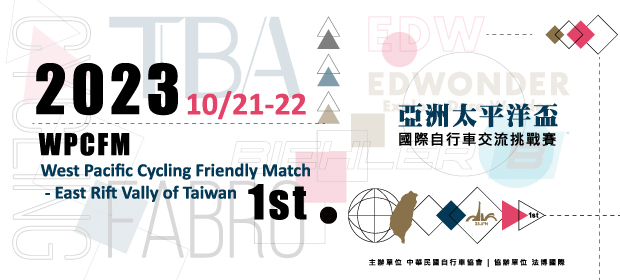 ---
The first West Pacific Cycling Friendly Match - East Rift Valley of Taiwan, will start in the eastern coastline of
Taiwan. This year, we invite the Asian agents of international cycling appeals brands, cycling teams, KOLs and
the professional cyclists from nearby countries.  In 350KM route of two days, let's challenge, ride with passion,
enjoy the riding along the most beautiful eastern coastline of Taiwan and the famous East Rift Valley, and feel
the friendliness and hospitality of Taiwanese people.
---
● Organizing Committee: Taiwan Bike Association
● Co-organizer: CYCLING FABRO
● Event Dates: October 21-22, 2023
● Assembly Point: Minquan 5th Street, Hualien, at the intersection of Coast Road (Former Astar site, 15K on
 County Road 193)
● Google coordinates: 23.983764, 121.623261
● Schedule
| | |
| --- | --- |
| DAY1 | Event Description |
| 05:50~06:15 | Luggage storage, Warm-up |
| 06:15~06:25 | Guest introductions and speeches |
| 06:25~06:30 | Rule descriptions, cautionary notes and safety instructions |
| 06:30~06:45 | Race commencement |
| 06:30~16:30 | Race |
| 16:30 | Taitung finish line close (Formosan Naruwan Hotel Resort Taitung) |
| 18:30 | Cyclists' evening banquet |
| 20:00 | Rest |
| | |
| --- | --- |
| DAY2 | Event Description |
| 05:00~06:25 | Breakfast、Luggage storage |
| 06:25~06:30 | Preparation |
| 06:30~06:45 | Race starts |
| 06:45~17:00 | Race |
| 17:00 | Hualien finish line close |
| 17:30 | Event concludes |
● Routes:
 Day1. Hualien (Bus Station Astar Hotel) 23°59'01.7"N 121°37'23.8"E→County Road #193→Provincial Highway
    No. 11C→Provincial Highway #9 →East Rift Valley of Taiwan→Formosan Naruwan Hotel Resort Taitung.
 Day2. Formosan Naruwan Hotel →Provincial Highway No. 11→Hualien Taitung Coast Highway→County Road
    #193→Hualien (Bus Station Astar Hotel)。
8. Supply Points 
日程

1

2

3

4

5

DAY 1

Fenglin Township

Office

Elementary

School

Magaloo

(Lunch)

Luye, Guanshan

Household

Registration

Office

Formosan Naruwan Hotel

Resort Taitung

DAY2

Jinzun Rest

Area

Shihyusan

tourist spot

Niyaro no

CawiPlaza

(Lunch)

Fengbin

XinShe

Fanshuliao

tourist spot
●Rule descriptions / cautionary notes:
 ■Eligibility: Participants must be 16 years of age or older and have experience in long-distance cycling.
 (Participants under 18 years of age who are citizens of the Republic of China must submit a parental
 consent form.)
 ■Bicycles must have fully functional brakes and front and rear lights. Throughout the event, it is mandatory to
 wear a helmet for the entire duration of the ride.
 ■Participants must use specialized water bottles for cycling and are prohibited from using regular plastic bottles.
 ■Personal raincoats or windbreakers should be carried by participants themselves and should not be entrusted
 to the staff for safekeeping.
 ■This event adopts chip timing, embedded within the number sticker. Please adhere to the instructions provided
 by the organizers for proper placement of the chip number sticker.
 ■This event is non-competitive in nature, and traffic control is generally not provided. Participants should obey
 traffic signals, follow the instructions of traffic police or staff members, keep to the side of the road, and ensure
 safety while cycling.
 ■Pay attention to the route signs along the way during the event. In case of any emergency requiring assistance,
 please contact the event staff (phone number printed on the number plate).
 ■There will be support vehicles for maintenance, medical assistance, and luggage transportation during the event.
 If there are support vehicles, please use designated rest areas for assistance and avoid following closely behind
 groups to ensure safety.
 ■After registration, participants will be automatically grouped according to gender and age.
●Rewards:
 ■Participants who complete the registration and payment will receive a commemorative Jersey (Kniel collaboration)
 Those who reach the finish line before the closing time will be awarded a finisher medal and a line for
 E-Certification application.
 ■Prior to the event, a package will be sent containing one Kniel event jersey, helmet number sticker, and bicycle
 number sticker. Please ensure the proper storage of these items as replacements will not be reissued on-site.
●Registration:
 ■Maxumum 660 people.
 ■Registration period: From 12:00 on May 25th to 12:00 on June 30th. Early cut-off if full.
 ■Registration method: Online registration via the Event Registration website (bao-ming.com);
 payment should be made according to the instructions provided on the registration website.
 ■Please select the registration options based on room type:
Room type

registration

code

Number limit

Fee (NTD)

Description

Double Room

A2

400

6,980

 1.Formosan Naruwan

 Hotel Resort Taitung

 2.Cyclists' evening

 banquet

 3.Commemorative Jersey

Triple Room

B3

100

6,780

Quadruple Room

C4

100

6,480
● Event souvenirs:
 Commemorative short sleeve Jersey.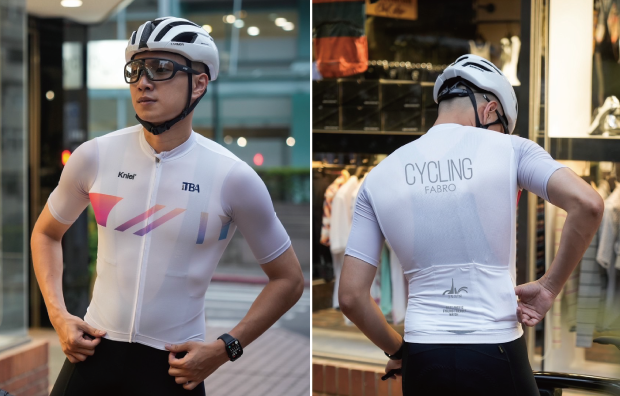 Kniel Jersey Size Chart

---
【Medal 】
The medal is designed based on the outline of the map of Taiwan, which symbolizes the return of the Tropic of Cancerand ,waves symbolize Taiwan's unique geographical location and rich natural resources.

The color block of the award belt is based on the aboriginal style, which represents respect and tolerance; it is a medal with profound meaning.
---
If foreign riders do not have an address in Taiwan, they will receive the race package at the service desk before
the start of the race on the day of the race, and still need to pay for the packaging and delivery fees. The fees
are as follows:
| | | | | | | |
| --- | --- | --- | --- | --- | --- | --- |
| everal people | 1 | 2~5 | 6~10 | 11~20 | 21~30 | 30up |
| Fee (NTD) | 100元 | 200元 | 300元 | 400元 | 500元 | 600元 |
● Cyclists' Evening Banquet
 We will have close contact with bicycle celebrities and netizens from Asia and Taiwan.
 The dinner will be served in a beautiful setting with a sumptuous dinner and a great show.
 Don't miss this rare opportunity to immerse yourself in the charm of cycling culture in a wonderful evening.
● Optional item description
Optional items (please tick when registering)

items

Optional

Fee(NTD)

Hotel the day before the event

LAKESHORE HOTEL HUALIEN

1,450
● Additional Information:
 ■Insurance for the event: 5 million NT dollars of public liability insurance, 1 million NT dollars of personal safety
 insurance and 50,000 NT dollars of accidental medical treatment for all athletes.
 ■Lunch will be provided at the third feed zone during the event.
 ■This event involves a certain level of intensity. Participants are required to assess their own health conditions
 before registering. Individuals with cardiovascular-related diseases are advised not to participate.
 ■On the day of the event, please cooperate with the staff for parking, registration, warm-up, and preparation to
 ensure the smooth progress of the event.
 ■Participants are expected to demonstrate civic-mindedness and not litter. If any dropped items are found during
 the ride, please assist in removing them when it is safe to do so.
 ■One week before the event, the organizing committee may release additional pre-event instructions and
 guidelines.
 ■In the event of rain, the event will generally proceed as scheduled. If there are circumstances such as natural
 disasters that deem it unsuitable to proceed, the event will be canceled. The related fees will be coordinated with
 the organizers, deducting the expenses incurred, and the remaining balance will be refunded.
● The above announcements are subject to revision by the organizing committee at any time if necessary.
---
 Overseas riders please complete the registration first (choose the payment method at will),
and then write to inquire about the payment method. 
Email住址會使用灌水程式保護機制。你需要啟動Javascript才能觀看它